I have so many friends I've made over the past two years through blogging. I feel like they have always been there. I can't pin point how I "met" them and started stalking their blogs. Today's blogger Melissa from Bless This Mess, is someone I've become friends with over the past year. I thought for sure we started following each other because of a connection I dreamed up of using the same graphic designer. Nope... she won one of my giveaways... I have such a terrible memory!
When I did stumble upon Melissa's blog I loved it. We are the same age, both stay at home moms to a litter of kiddos. Pretty sure if she lived closer (she is all the way out in Utah!) we'd be BFF's. Melissa is not only a mom, wife, blogger, she raises her own chickens, and she and her husband are in the house flipping/remodel business. She shares real life shots and blog posts about her home and family during the chaos of remodeling. I love it.
Months ago I tried her
White Cloud Frosting
and fell in love. She calls it icing.... I call it frosting. It's a regional thing. I don't think anyone in the N. East says icing... Anyways. I've made it more times than I can count. Hands down best frosting recipe on earth. Normally I don't get all excited about frosting, but this is just so good it deserves a blog post dedicated to it. It's light like a meringue or even whipped cream because of the egg whites, but sweetened with corn syrup instead of tons of powdered sugar. Also, it's butter FREE! Fluffy, pipes like a dream, and does great when left at room temperature. Every cake or cupcake you make from here on out should be topped with White Cloud Frosting.
Today I sat down Melissa and asked her a few questions about her blog and life.
Melissa, I am so happy you did Coffee Talk with me today! I have just a few questions for you so we can all get to know the blogger behind Bless This Mess.....
Do you have a favorite trashy food you love but hate to admit?
I'm ashamed of my love for Little Debbie's Swiss Cake Rolls. I rarely buy that kind of thing but when you need Swiss Cake Roll, you NEED a Swiss Cake Roll. We just moved a few weeks ago and that little roll of chocolate goodness is the only thing that got me through the mountain of packing and work that moving involves.
What is your must have kitchen tool or appliance?

I tend to be a minimalist when it comes to most things, kitchen gadgets included. I have to say that I good set of knifes is worth the money and will be used over and over again. I literally own four knives including a bread knife, but they are used every single day.
What blog post/recipe are you most proud of?


I posted The

Ultimate

Chocolate and Peanut Butter Sundae recipe this year and I'm so so proud of it. Food photography is something that I've worked really hard at to improve over the last 18 months and when I looked at the pictures from this recipe I finally felt like a "real" food blogger! The recipe is awesome and the picture do just what they should - make you want to have it. Now.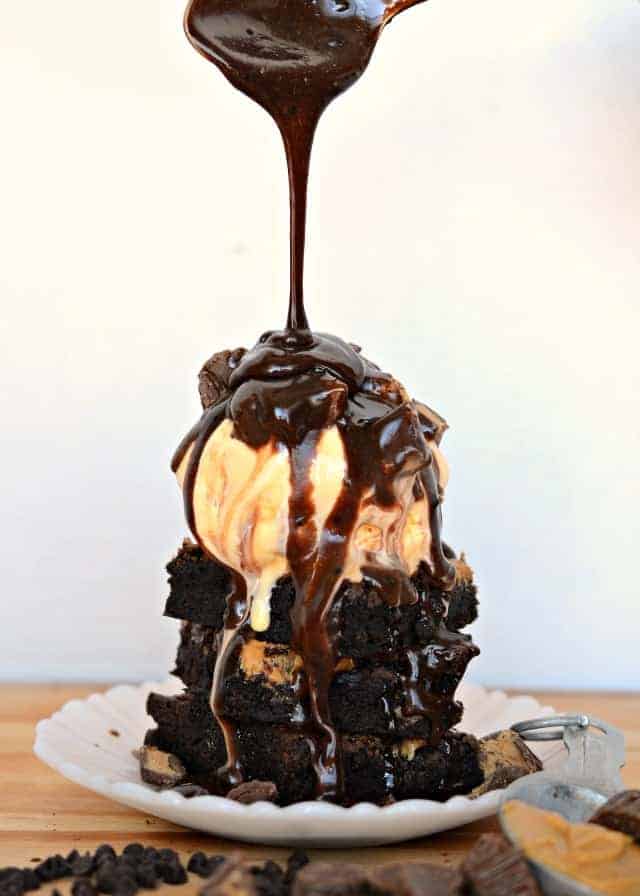 Our blogging community is full of inspiring bloggers. My reading list grows almost every day. Are there a few blogs you think we all must check out ?
I love this question! You, Carrie, are a favorite for sure (and no, I'm not sucking up... I just love you), and these three ladies are just as impressive as you.

Back to Her Roots - Cassie is a fellow Hoosier (though I live in Utah now) and her blog is just SO much fun to read. She's amazing and inspiring.

Cooking Classy - Jaclyn has amazing pictures and I want to make every single recipe she posts. Her sugar cookie bars are delicious.

One Lovely Life - Emily makes your day better because she's so very positive while keeping it real, and she's a quiz in the kitchen to boot.