Are you guys ready for another awesome Guest Poster? Today we have Julie from
Table for Two
sharing one of her cookie recipes with us.
Everyone say hi to Julie and hello to these cookies that look like the size of my face!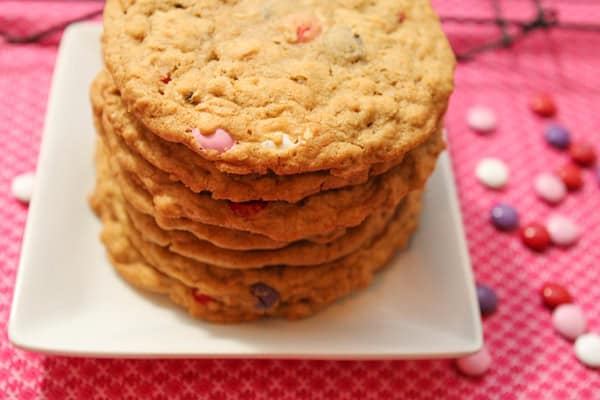 Well, hello hello readers of Bakeaholic Mama! I'm Julie over at
Table for Two
where I love to whip up fun culinary creations in my kitchen. Don't let the name fool ya, I cook for more than two every day! The name just came from me & my boyfriend's dining habits (where we eat at a table for two in our apartment.
I'm so honored to be asked to guest blog for Carrie today. She's such a sweet lady and it's been fun getting to know her! I thought these cookies would be perfect right before Valentine's day. You even still have time to whip up a batch! I didn't intend on making these HUGE but as I was making these, I started to come up with a bunch of crazy ideas for this cookie so I decided to basically throw the entire kitchen sink in these cookies. They have oatmeal and dark chocolate m&m's AND I decided to stuff them with a dollop of peanut butter. You know, you'll be munching on the cookie and then all of a sudden you'll hit a salty spot and the peanut buttery goodness will start flowing out. YES, it is AMAZING.
This is what you'll need for 1 dozen, hand-sized cookies:
2 sticks of unsalted butter, softened
1/2 cup of granulated sugar
1 1/2 cup dark brown sugar, packed
2 large eggs
1 tbsp. vanilla extract
2 cups all purpose flour
1/2 tsp. baking soda
1tsp. baking powder
2 tsp. salt
1 1/2 regular oats (not instant)
1 cup dark chocolate M&M's
Jar of creamy peanut butter
Instructions:
1. Preheat oven to 350 degrees and line baking sheets with parchment paper or silicone mats. Set aside.
2. In a bowl of a stand mixer, cream together the sugars and butter until light and fluffy.
3. In a large bowl, combine the flour, baking soda, baking powder, and salt. Add it to the mixer and blend until well-combined.
4. Remove the bowl from the stand mixer and gently stir in the oats and M&M's by hand.
5. Take a medium sized cookie scoop and scoop the dough into the palm of your hand and form a ball with it. Place it on the cookie sheet and with your index finger, make a well in the middle of the dough. Take a teaspoon of peanut butter and put the dollop in the well. Then take another scoop of cookie dough and put it on top (like a sandwich). Repeat until all dough has been used up.
6. Bake for 15 minutes or until edges are starting to brown. Let cool on baking sheet for 5 minutes before transferring to cooling rack to cool completely.
7. Store in an airtight container.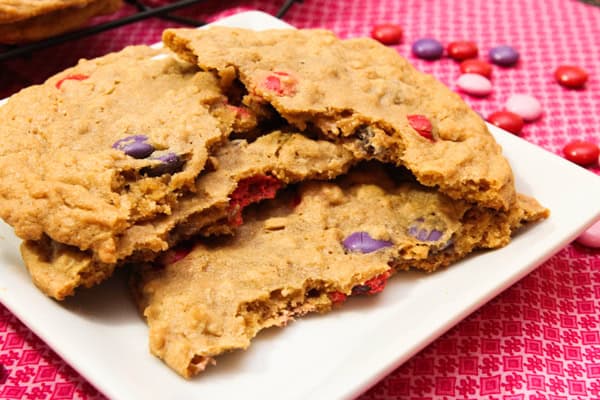 Julie thank you so much for sharing with us today, not only do these cookies sound fantastic they LOOK fantastic!
If you all would like to follow Julie on her blog, please click
HERE
.
If you would like to follower her on facebook, please click
HERE.
If you would like to follow her on Twitter, please click
HERE.